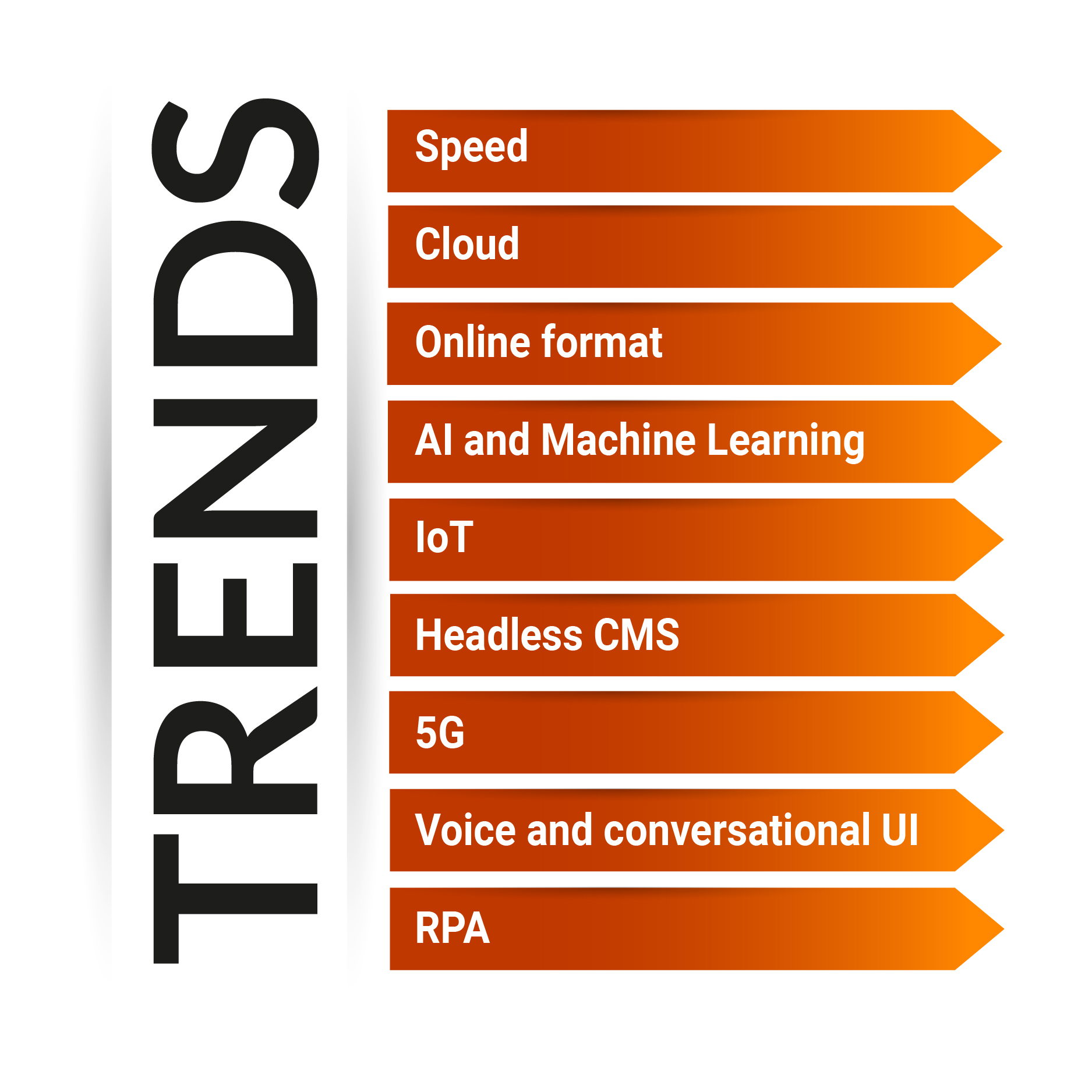 Technology never stops developing! The digital transformation adds new features every year and that is used to improve performance in e-procurement. A lot of processes now can be automated, which saves your time and money tremendously. Moreover, digital transformation will give you an edge over your competitors. Does your business need digital transformation? Of course yes! Let's take a look at the list of new features in digital transformation that our developers can easily implement in your business.
DT trends
Increased attention to speed 
In the modern world competition still has the same rules as earlier: first come, first served. What we mean here is that not only the skill of your company will bring you profit, you also need to be the first to reach markets and certain customers. This is where technology helps. In 2021 the attention is drawn to speed to provide you with the fastest way to search for information, gather and evaluate data, and attract more customers.
Cloud
Cloud Serverless executes functions in the cloud as necessary, and with that, it lowers the stress and the time spent on operating servers so that you can focus more on your core projects. Hybrid cloud solutions are predicted to be growing as well. That is mixed computing, storage, and services environment that consists of on-premises infrastructure, and/or a public cloud, and private cloud services. Kubernetes and Containers are gaining popularity as well.
Online format
The COVID-19 pandemic forced the world to transfer all work online. Whether it's an online meeting, shopping, conferences, or remote working, it all can be now conducted from one's home. A lot of companies will probably prefer staying in a remote working format even after the pandemic. And it's quite a great solution for you as you will have the ability to manage your and your employees' workload, company's processes, etc. remotely.
AI and Machine Learning
MobiDev presented 2021 trends for AI and Machine learning. As for competition in the ML framework, TensorFlow is usually used in business while PyTorch - for research. Data-driven decisions will be much easier to make once industry applications of AI analysis for business forecasts will be available. RL technology (Reinforcement learning) keeps developing, and one of their latest developments is self-improving chatbots. AI-driven biometric security solutions are boosting their security and efficiency in 2021. Some of the examples are Amazon's Alexa and the face anti-spoofing system. Explainable AI is a new field that contrasts with the concept of the "black box" in machine learning. ML designers keep making AI more coherent for people by giving reasons for a certain output. As for Conversational AI, a few developments are coming containing XLNet and BERT. XLNet is an autoregressive pre-training model that can foresee words from texts working with context clues. BERT provides a bidirectional reading of texts. AutoML (Automated machine learning) finds patterns in input data and selects the best-suited model for handling it. Our developers can easily implement any of these trends into your business to make it even more efficient than before.
IoT
Here come impactful trends in the Internet of Things (IoT). As IoT gets quite a number of massive attacks, the attention is specifically focused on its security in 2021. Software as a Service (SaaS) becomes more popular as it reduces cost for its customers and gives developers the ability to create and sell more advanced solutions. Internet of Things is more frequently utilized in people's homes (i.e. gadgets with voice interface) and in cities in general. Industrial Internet of Things (IIoT) is considered to have great potential for its productivity increase for lower operating costs, better optimization, and boosting operator safety in industrial environments. IoT, together with AI and ML, now will gather immense amounts of data quicker, analysis and management will be more effective. In addition, IoT increases global connectivity as in the modern world it becomes more and more necessary to track and manage assets in different spheres, which makes it a useful tool if added to your business. 
API development
In API development, Headless CMS is predicted to be one of the biggest trends in the following year. Coming in contrast with page-oriented CMSs, Headless CMS turns into the main tool for practicing content at first and then spreading your content from one source. With this content management system, you have the ability to spread your content to any channel via APIs easily. 
5G
As the speed is becoming in demand even more, 5G is a perfect tool for keeping up with the progress and being ahead of the competition. Thanks to 5G, we will have more of the ultra-fast infrastructure out there that will positively influence AI and ML, financial services, industrial IoT, telecom, and security.
Voice and conversational UI
The world has already experienced the beginning of the usage of this feature. And it will keep improving in the following year. Voice assistant usage, voice search, and voice supporting hardware will be highly profitable features for operational purposes and marketing. You should consider adding that to your business.
RPA
RPA (Robotic Process Automation) is a great tool for e-procurement, and it contributes to the e-commerce business no less than AI, ML, and other technologies mentioned above. Big e-commerce platforms are able to automate large amounts of data easily with the help of RPA. After deploying it you will manage your business more efficiently. RPA helps businesses with organizing all the payment processing into one mechanism that will work smoothly across all channels and will ensure that account reconciliation, financial filings, and other actions are handled perfectly. Customer support and personalization can be automated too. RPA helps with collecting information for personalized product offers, order placing, information search, and much more for sophisticated user experience. Robotic Process Automation also automates the ERP (Enterprise Resource Planning) management while saving you from tons of mundane work. Marketing automation makes your campaign planning as easy as ever by sending automated emails, gathering and inserting the customer information, handling the complaints, and other activities that include communication with customers. Logistics can be managed by RPA, for example sending notifications about the status of the order and other duties in product shipping. This will make your logistics faster and more effective. 
Digital transformation in your business
These trends and even more out there can be a part of your business now! They are just what you need for improving your business and getting an upper hand over your competitors. Automated processes can make your work easier, faster, and less costly. Would you like to give it a try? Our developers can easily implement whatever new features you need in your business in no time. Talk to us and we'll make it happen!