Cloud services are the key to differentiating your business from the competition with the goal of increasing profitability. Whether it's the development of a platform or software development in the cloud, cloud migration, or a backup of your data in the cloud computing, Quintagroup is eager to help you experience these processes for the purpose of your company's prosperity and welfare.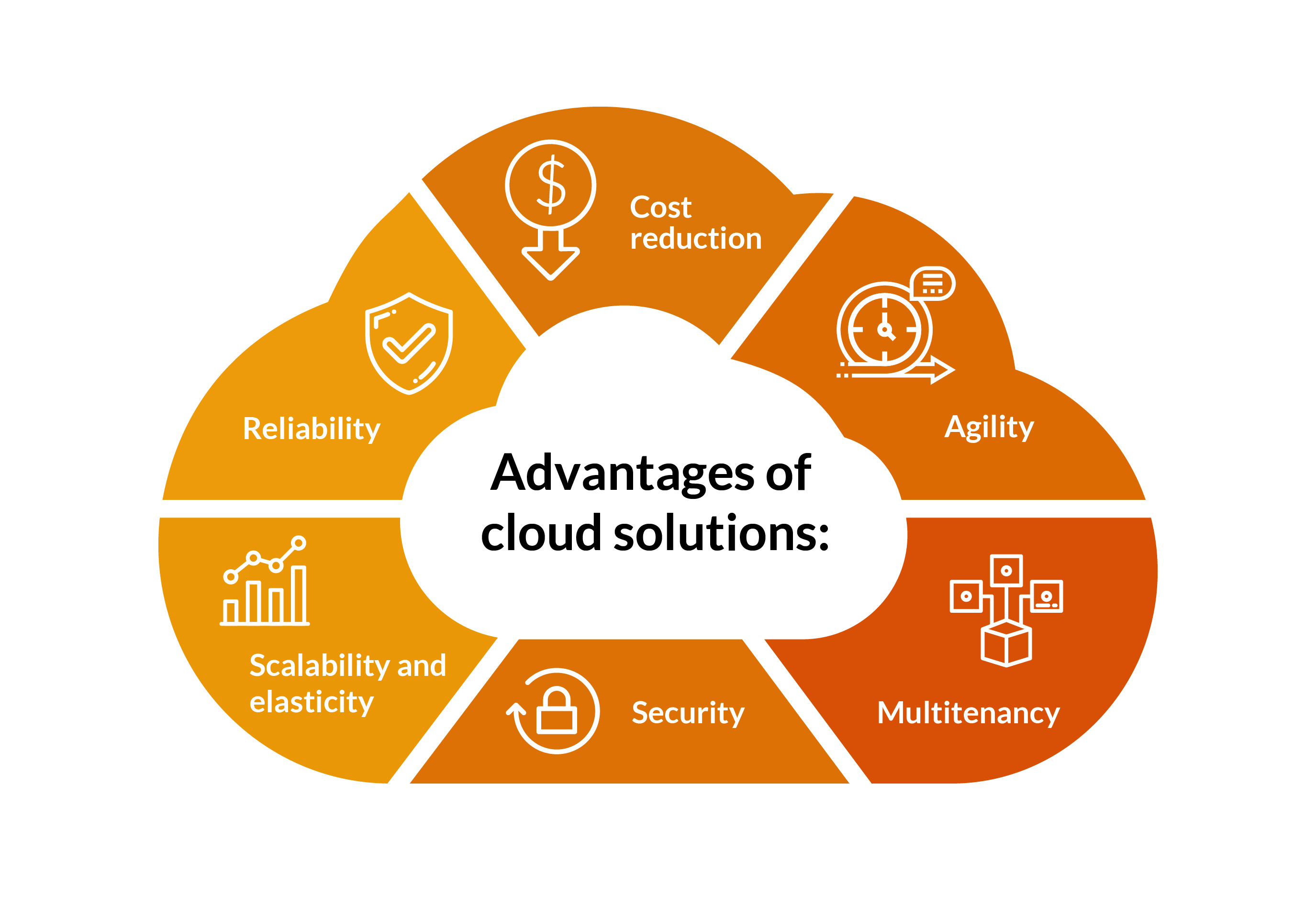 The growth of cloud computing was led by the availability of the high-capacity networks, low-cost storage devices and the widespread of the hardware virtualization. Quintagroup as a service provider of cloud computing ensures companies, businesses and enterprises with all the advantages of cloud solutions as following:
Cost reduction
Agility
Multitenancy
Security
Scalability and elasticity
Reliability
Cloud software development
Platform and software development in the cloud is gaining extreme popularity. More and more businesses are launching private and public cloud deployment models. Our engineers are qualified talents who specialize in delivering cloud software development solutions like PaaS, SaaS. By scrutinizing the experience gained in the previous projects, they improve their skills and knowledge on-the-fly to deliver you superior cloud solutions.
Cloud storage
Big data analytics, data warehouse, Internet of Things, and databases all depend on a reliable, scalable and secure place for your data storage. And this place is definitely a cloud. Cloud storage is considered to be more trustworthy than conventional on-premises systems for storing. Consider storing, migrating to the cloud and backing up your data with cloud storage products like Amazon Cloud Storage.
Cloud migration
At Quintagroup, we strive to ease your life and make complex things simple. We will help your data, applications, and workloads migrate in the smoothest way possible. Remaining your database fully operational, AWS Database Migration Service helps migrate your data between most frequently used commercial and open source databases. The benefits of the service lie in its simplicity of set up and use, cost-efficiency, and reliability.
Like not many other companies, Quintagroup has experience of migrating the data not only from on-premises software to the cloud but the other way round as well. That proves that our technical experts are ready to meet all your needs, goals and requirements and bravely respond to every challenge.
Cloud backup
Quintagroup provides powerful and affordable cloud-based backup solutions for the servers to keep your most critical business data secure. Frequently scheduled cloud backups give you a full overview of your data from anywhere in the world at any time.
Cloud hosting
You probably know that every site had to be hosted somewhere. Your site will need hosting too. In comparison with simple web hosting, cloud hosting ensures considerable flexibility. And please don't forget! When you choose Quintagroup for hosting complex business solutions you receive a high-quality service of deployment and constant support by our DevOps specialists.
Cloud management
Successful companies must rethink their processes and infrastructure to succeed. With cloud management systems, like AWS CloudWatch, our technical magicians are able to operate and monitor cloud computing products and services across multiple cloud infrastructure. Well-implemented cloud management allows users to keep track of those powerful and scalable cloud computing.
Cloud security
Our high-level set of policies, procedures, and technologies allow us to build secure and reliable software and you to leverage the best of cloud computing. Our preventive and detective controls remain your privacy and data untouchable and maintain your compliance with necessary regulations.
Choosing Quintagroup you will receive not a simple cloud service, but service on cloud nine.
Tell us your primary requirements and let's make your dreams happen!