What is SaaS development?
During the last decades, SaaS solutions have gained extreme popularity among both startups and already developed businesses. SaaS stands for Software as a Service, which implies the use of the licensed software online via a subscription and without installation. The main benefit of SaaS solutions, as a software business model, is that it offers the ability to deliver and execute various business processes from any place and by anyone.
Quintagroup is a SaaS development company that holds deep and professional expertise in the process of software development. More than that, Quintagroup can present the whole SaaS development life cycle model, with all its methodology, examination, and specifics. The SaaS development life cycle helps you to follow the process of developing a SaaS solution.
SaaS application development
SaaS application development is among the core services our company is specializing in. Our engineers are qualified professionals, who strive for the implementation of our customers' ideas into reality. Therefore, if you are looking for a combination of high quality, convenience, and affordable price, you are in the right place. Just send us your request and we will deliver to you an application that will help to step up your game.
By taking advantage of our service, you acquire a customized application, that takes the productivity of your company to a higher level. The process of SaaS product development involves the interaction of several components.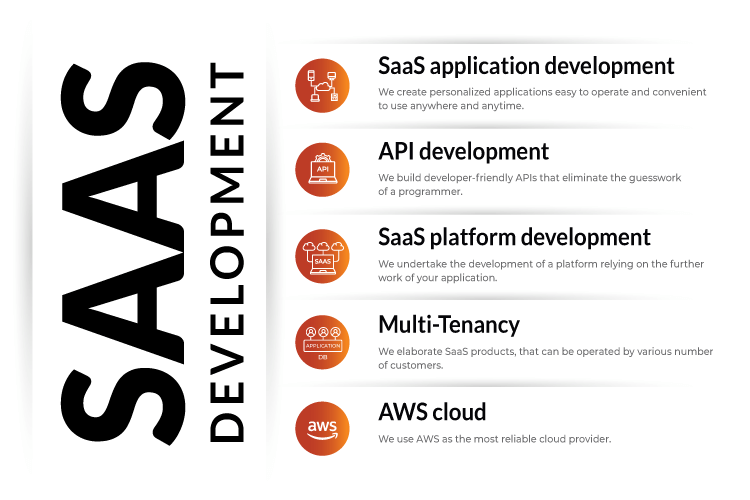 Multi-Tenant SaaS Architecture
Nowadays, a great number of companies and entrepreneurs prefer to use a multi-tenant SaaS application rather than a single-tenant one. Let us explain why. Unlike single-tenancy, where for each user there is a separate database and a single software instance, in multi-tenancy all users share the same code-based application, however, their data and confidential information are locked down tight. The thing is, that users operate the same application with a single database, but their information is secured from one another.
A choice of cloud provider greatly influences the architecture of a SaaS solution. It goes without saying, that in order to build a multi-tenant SaaS, you need a stable platform, capable of scaling up and down. A cloud service that you pick up should be reliable, scalable, and secure. Quintagroup is also experienced in providing services based on AWS. Amazon Web Service is a SaaS cloud provider offering a wide range of services all around the world. AWS stands out for its flexibility, security, dynamics and excellent performance.
How companies benefit from multi-tenancy?
Multi-tenant SaaS Architecture works perfectly for those who want to reduce costs when it comes to the application development and its maintenance. What is more, multi-tenancy makes the software more flexible and easy to operate. Speaking of security, all a client has to do is to authenticate in order to prevent any data leak and secure personal information from unauthorized users.
You may wonder, why us?
Trust
During the time that we have been working on the SaaS application development and software development in general, we have gained the trust and satisfaction of our clients.
Quality
We are the company with the experience of more than 16 years when it comes to providing SaaS development services. We always long for perfection. That is why, every time we work on the implementation of a product, we set high requirements and standards for ourselves and try to exceed them in the end.
Loyalty
We build ties with clients all around the world, which resulted in long-term cooperation and support. Common interests and common aim - that is the thing that helps to bridge a gap.
Efficiency
Quintagroup has developed efficient strategies and methodology practices allowing to build a customized and personalized SaaS solution, just the one you've requested. Eventually, you will be pleasantly surprised with the product we deliver to you.
Care
We do care about our clients and, therefore, for us their satisfaction is of vital importance. After the very delivery, we always keep in touch with our clients to make sure that the SaaS application works properly.
Do you still have hesitations? Contact us and we'll leverage our knowledge and efforts to meet your expectations.
Fill in this form to proceed and use the service to the fullest.