Being a trusted partner to our clients, we endeavor to make the process of development as clear as day so there won't be any confusion and misunderstanding. Building a full lifecycle of software development keeps us in line with the slightest niceties of your project. Choosing Quintagroup, you will receive a complete package of custom solutions that will suit your specific business needs.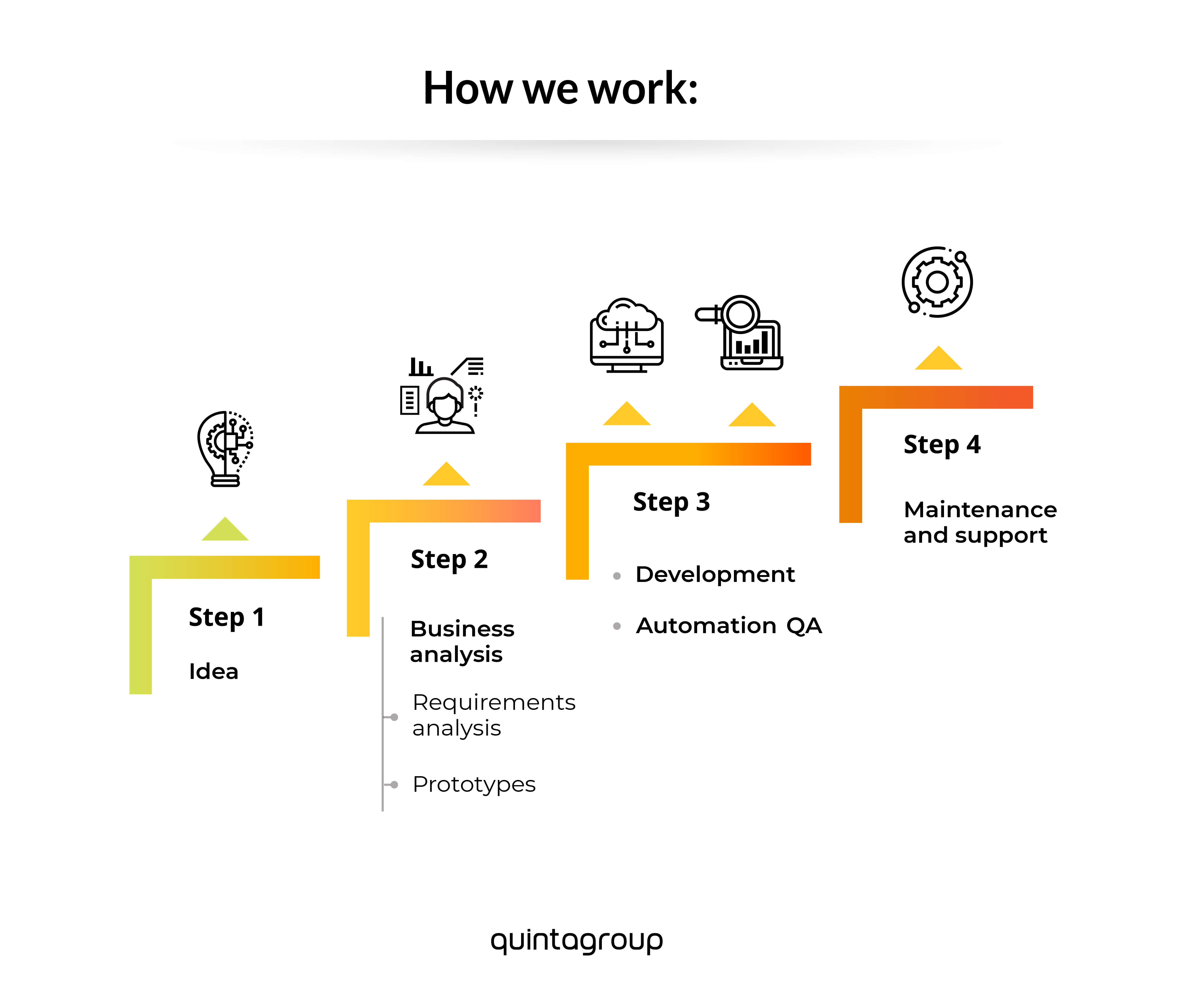 Idea
We pay attention to the smallest details in order to achieve a comprehensive vision that combines your objectives with our technological solutions. We will begin our cooperation with the arrangement of an introductory meeting. This meeting will allow us to dive deep into the nuances of your projects, its pitfalls, and streams. And you will be able to ask as many questions as needed so as to be sure that we are the company you looked for.
Are you a Startup?
Quintagroup will conduct profound research to minimize the risks and after that bring your idea to life.
Are you an Enterprise or Government institution?
Our team will generate ideas for new products, build business processes and implement software solutions.
Do you have an issue? We are your solution!
Believe us, choosing Quintagroup as a reliable partner for tackling your business issue will make it worth your while.
Business analysis
We strive to come up with the most suitable models, processes and methods for accomplishing custom-tailored software solutions that will boost the superiority of your brand.
Requirements analysis
We conduct an in-depth exploration of the fundamentals of your future project. Our business analysts will co-operate with you to determine precise requirements and make sure that they are clear, consistent and unambiguous for both parties.
Prototyping
To make your vision more real, our team of business analysts and UI/UX designers will outline future functionality and design for the sake of building a pre-production mock-up.
Product Concept
In order to achieve a maximum result, our business analysts will help you understand the market and target users of the desired project. Product concept is composed of a basic understanding of the dynamics of your project to demonstrate the best properties and features of the product that spark the interest of a potential client.
Architecture Concept
When it comes to the description of the product architecture, Quintagroup will provide you with an explanation of all architectural decisions and details that are essential to determine the complexity, define the project physical structure, and describe interoperability with other systems.
Estimate
At your request, we will prepare an approximation of what your project will cost. Estimate also includes project scope, so you have a good understanding of what the services entail, timelines and deadlines, and other specific terms that should be known for both parties before the beginning of work.
Development and Quality Assurance
Processes like programming, testing, and bugs fixing of your desired product occur in parallels with one another. In order to achieve a seamless deployment, our technicians use tested industry practices of development and automated testing. To yield fast and robust software development and deployment, our team of highly qualified professionals implements Continuous Integration (CI) and Continuous Delivery (CD) processes within the DevOps SDLC methodology, ensuring rapid and secure software release at any time. We also deliver tremendous value to proper installation, configuration, and final performance.
Maintenance and support
We know that our work is not done once the project is launched. We will make sure that our product is kept up-to-date and suggest useful improvements and optimization steps. Troubleshooting, modifying, maintaining and enhancing legacy systems - all of which are the elements of supporting application systems provided by Quintagroup. We will leave no stone unturned in exceeding your expectations and ensuring the proper running of your software application.
How to start
We cooperate with our clients according to three main cooperation models. Choose one that suits you the most and be the next client of Quintagroup with just one click.
Cooperation models
Contact us
But as we all know, it all starts with a conversation. Let's get in touch and discuss how we can help you receive a fresh digital experience with the leading software company and get things done.