Dedicated Team is a business model where a client and outsource provider mutually agree on the workload and project requirements for the specified amount of time. At the client's request, we pick the best-suited developers relying on our 15+ years of experience in the process of creating cutting-edge technology. We take full responsibility and choose specialists only on the requirements needed for your project. You are to choose what are the employment terms, e.g. whether it's a full-time or a part-time position. A client has full management control over the project and team, while we provide recruiting and administrative support.
Who needs a dedicated team?
Let's conduct a test. Be honest in answering the following questions.
Are you struggling to find the right talent for your team?
Do you need a backup for your core team?
Does your project workload expand and you need to scale rapidly?
Do you lack expertise in a narrow technology?
If your answer was "Yes" to any of these questions then a dedicated software development team is the one you need.
This model is usually used for long-term projects, where requirements are unclear and scope changes frequently. It is also used when a client's own team lacks skills or expertise in specific areas. The main aim of the dedicated team is to work seamlessly as part of the client's team to provide quality, unique and project-specific solutions.
The option of hiring a dedicated team has quite transparent and simple pricing system: every month client pays service provider single sum of money that depends on the size and composition of the team since it includes each team member's monthly salary, plus provider's fee that basically comprises administrative and infrastructure expenses and overhead.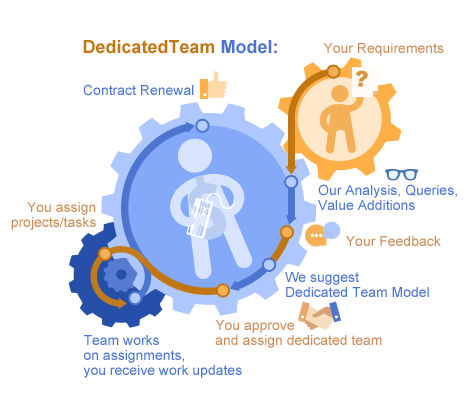 Process of dedicated team development
With the Dedicated team model from Quintagroup client can manage highly qualified and competent experts, project managers, equipment, resources, and infrastructure based on project requirements. Team members are experienced in different IT areas, especially in Python and Plone development, and can become an irreplaceable part of your personnel and offer professional web development, web design, and content management services. A client can assess team member's technical and interpersonal skills. Quintagroup pays attention to team and skill-building opportunities and provides employees with the latest technological information.
Dedicated Team approach in Quintagroup is divided into several stages:
1. Scoping
We specify the client's problems, ideas, and business goals. On this stage, we create a plan of team size and structure and identify qualification requirements
2. Setting up
Quintagroup searches for IT experts with the appropriate knowledge and sets up an appropriate environment and tools. The client is authorized to chose team members
3. Launching
Experts are gathered into a team and start work during regular hours. They constantly work only for the client's project, get to know its specifics and see the general idea behind each separate task.
Outsource company becomes an initial mediator between the new team and client, but with time this team becomes more and more committed to their project and client's company in general. Team members become part of a client's company and with the rest of the client's personnel adhere to the client's corporate culture, management style, and project methodologies. They share client vision and are very interested in achieving specific business goals.
Benefits
One of the main advantages of the Dedicated team model is that each team is assigned to just one client and each individual is assigned to just one team at a time. If an individual is working on several projects for different companies simultaneously, delivery effectiveness and motivation will suffer. But in the case of the Dedicated team model team members are always available for the requests and clients can manage resources and plan work volume at their own discretion with the maximum benefit for themselves. Time management and reporting are as simple as possible. Clients have full control over the project delivery and teamwork due to the clear project management, progress tracking tools and convenient interaction means.
Advantages of the Dedicated Team model are quite numeral:
Process benefits:
An agile approach of the model ensures cross-function teams;
Workload and scope are not fixed and change requests can be made at any moment;
Dedicated software developers have a profound understanding of client's expectations and clearly see the end goal;
Transmission of project knowledge and familiarity with the client's business domain.
Team benefits:
Absolute authority towards selecting, motivation, and management of dedicated team members;
Transparent relationships based on open communication and management;
Team cohesion and stability ensures dedication to the slightest requirements of the project.
Costs benefits:
Predictable budget;
Cutting expenses for recruitment;
Our services
Quintagroup offers the Dedicated team model for the following services:
In general, the Dedicated team model proved itself as an advanced cost-efficient personnel management solution that balances team size and project workloads, facilitates skills exchange and on-time project delivery.
If you don't feel that a dedicated team model suits your needs, you can learn more about other pricing models like Fixed Price and Time and Material model.